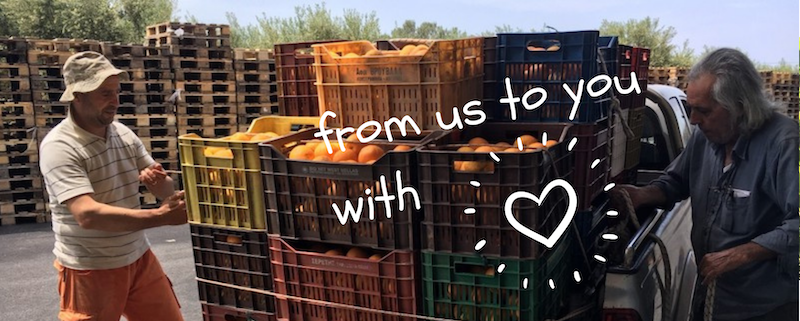 Koinobio Brussels
Kinobio BXL is a community-supported agriculture group in Brussels to import produce from Koinobio Cooperating Farms in Greece in a solidarity approach, and other farmers or producers in need. It is a self-governed, collaborative group united for a sustainable world.
SEASON 2023-2024 CALENDAR
| | | | | |
| --- | --- | --- | --- | --- |
| | LAUNCH | DEADLINE | DELIVERY | DISTRIBUTION |
| October | 16 sept. | 1 oct. | 10 oct. | 14 oct. |
| November | 30 oct. | 11 nov. | 23 nov. | 25 nov. |
| December | 18 nov. | 2 dec. | 13 dec. | 16 dec. |
| January | 23 dec. | 6 jan. | 19 jan. | 20 janv. |
| February | 20 jan. | 3 feb. | 16 feb. | 17 feb. |
| March | 17 févr. | 2 mar. | 15 mar. | 16 mar. |
| April | 16 mar. | 30 mar. | 10 apr. | 13 apr. |
| May | 20 apr. | 4 may | 14 may | 18 may |
SOLIDARITY IMPORT ?
Kinobio BXL's purpose is to import organic agrumes from a small cooperative near Corinth in Greece. It all started about 5 years ago, and is now bearing its fruits by supporting local producers dramatically affected by the Troika's diktat post-2008 economic crisis :
successive tax increases,
new taxes, particularly on gas for agriculture,
payment by anticipation of income tax based on harvest to come became mandatory and infringement punished of jail time etc.
As a result : fruits started rotting on trees, producers cumulating 3 or 4 jobs, fruit prices plummeted to 20 centimes a kilo, everyone started to distrust everyone...
Within 5 years, along with other groups in Europe, (Germany, France, Czech Republic), we supported a handful of small local producers who wanted to break the deadly downward spiral by putting resources together and collaborate. By offering them a market for their fruits outside of the collapsing Greek market, by ensuring them a fair price (1 euro a kilo at least), they slowly crawled out of misery, learned to share again, to regain trust and confidence...
Over the years here in Brussels, we were willilng to take this momentum, this opportunity to support other small producers, be they local or beyond, and new products were added to the menu. Everything is ORGANIC certified or not certified, selected based on the project ethics as well as the product quality :)
We organise one order per month during the agrumes season (October through May), on a pre-order basis via this online platform, you pay what you order, no intermediary, the whole organisation is entirely based on volunteering.
SOLIDARITY again
That being said, this price increase should not leave anyone on the side of the road, especially those of you who already have budget difficulties, and as a ripple effect reduce the order volumes...
Balance between producers income and participants budget constraints is a delicate one, but we will for sure find solutions if you cannot afford to get your fuits anymore, now orries, Antonis REALLY insists on this. So please please DO NOT HESITATE to contact us!
TAKE PART
What is it?
Kinobio BXL is a Community-supported Agriculture group : consummer behavior and instincts are strongly discouraged, the understanding of all constraints bearing on producers as well as limitations stemming from our mode of action strongly encouraged.
The group is self-managed and consists only of volunteers. Volunteers are called upon to help with the organising and distribution of indiviual orders. Everyone commits to actively participate depending of availability, in order to reduce administrators workload, to encourage collaboration, soliarity and mutual help. This is the sine qua non condition to ensure the project durability and support the producers on the long run.
Register
Order
Check out our online manual and pass your order
Done,just wait for my greenlight by email to pay by wire (bank account info will be provided in the email).
Order Pickup
Once our group order is confirmed with Koinobio Cooperating Farms, an email is sent out to participants via the mailing list, announcing pick up dates.
A link to an online survey is sent along with the email, proposing for each distribution day a set of time slots. Participants must fill out the survey to state availability for EACH slot, and add comments to let administrators know for which other participants they will pickup orders, and/or state they're looking for someone to pick up their own order.
Administrators will review the survey results and prepare the running order, so as to limit the number of participants for each time slot and balance affluence between time slots.
On the day before the first distribution at the latest, administrators invite participants in an email to go back to the survey page and check at whtat time they are expected to pickup their order.
As much as possible, 2 distributions are organised per delivery, on WEDNESDAY and SATURDAY following the reception of the pallets.
Pickups take place at the La Poudrière, 60 rue de la Poudrière, 1000 Brussels.
Each participant commits as much as possible to speak with his.her neighbors living in the same area or municipality to pickup their orders, in order to reduce affluence during distributions, to lower pollution levels, to help unavailable participants, and to ensure a maximum number of individual orders are distributed.
Payment
Validated orders payments are accepted by BANK TRANSFER ONLY, to keep transparency of accounts at all time with all members, producers and the administration.
To avoid multiplying wires, payment shall only be sent AFTER THE GREENLIGHT by Koinobio Cooperating Farms, who has to confirm our group order first (a minimum of 720 Kg, i.e. one palette, is requested to trigger international shipping). Greenlight is sent out in an email to the list.
Wherever possible, missing purchased items will be delivered the next month. If those items cannot be delivered the next month, they will be refund by bank transfer.
Wire are to be sent to the following bank account BE41 9660 1123 4910 with communication :"Kinobio MONTH YEAR + your name or your group name"
Once the whole due amount collected, producers will receive a SINGLE wire on their account. A screenshot ot the wires to the producers, along with statistics on the group order, will be sent to participants in an email to the list
Order Pickups
All orders are for pickup at La Poudrière, 60 rue de la Poudrière in Brussels on distribution days.
If you're note available on these days, check the participants map that was sent along the survey link and send us your neighbors number shown on the map, we'll put you in contact : they might be able to pick up your order for you !